September 2017 Luncheon
Luncheon Topic: 
Fraud Detection and Prevention (CPE Credit: 1)              U.S. Customs and Border Protection (CBP)
Speakers:
George Minamishin, Watch Commander, U.S. CBP       Scott Kikkawa, Supervisory CBP Officer
Date:

Wednesday, Sept. 20, 2017; 

Check in at 11:30am at the Pacific Club – The Card Room
1451 Queen Emma Street, Free Parking
Cost:
Members $40; Guests $45;


Student members $25; 

Student non-members $30

After Lunch Training

:
No after-lunch training session on September 20th
Email Melissa Loy at acfehawaii@gmail.com to RSVP if you would like to attend by Tuesday, May 10th Please indicate 1) the luncheon only or 2) both the luncheon and training session. Receipts will be provided upon check-in unless otherwise requested.
---
Credit Card Payment for Luncheon  (please indicate who will attend)
************************************************************************************
Our next bi-monthly meeting for 2017 will be at the Pacific Club on:
Wednesday, November 15, 2017
Hope to see you there!
***********************************************************************************
ACFE FALL SEMINAR: 
October 12th, 2017  (Thursday) at the Pacific Club 
Planned topics will be:
Ethical Considerations in Fraud Investigations

(4 CPE hours, including content on Hawaii regulations)

Fraud Case Studies: Focusing on Key Documents in Fraud Investigations

(4 CPE hours)
Speakers:
Janet M. McHard is the President of McHard Accounting Consulting, LLC, a firm specializing in forensic accounting, fraud prevention, and accounting reconstruction. She is a CFE, CPA in New Mexico, certified in Financial Forensics. She provides assistance, including expert testimony, in the areas of fraud and forensic accounting. She also has experience in database management and class action administration.
A regular speaker at the ACFE Global conferences, she will be conducting the post-conference session on Auditing/Investigating Fraud Seminar at the upcoming 28th ACFE Global Fraud Conference.
Beth Mohr is a Managing Partner at the same company, and has a CFE, is a Certified Money Laundering Specialist and a licensed private investigator in California, Arizona and New Mexico.
Early Bird Special by August 14, 2017:  $150 ACFE Hawaii Members/ $200 Non-Members
After August 14, 2017: $200 ACFE Hawaii Members/ $250 Non-Members
Lunch included.  If there are any dietary restrictions, please inform us at the time of registration.
Please mail a completed registration form with check payable to the Hawaii Chapter of the ACFE to Hawaii Chapter of the ACFE, PO BOX 4749 Honolulu, Hawaii 96812-4749 by September 28.  Include Name, company, phone, email contact, and if you are a ACFE Hawaii member or Non-Member.  You can also make payments by credit card by using the PayPal buttons below.
Any questions, please contact Maria Torres-Kitamura at acfehawaii@gmail.com.  See attached flyer/registration form.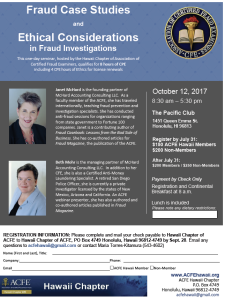 ACFE Seminar Registration 2017
Credit Card Payment for Fall Seminar  (please indicate who will attend)
Credit Card Payment for Membership  (please enter a member name)