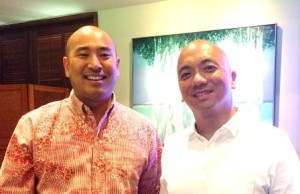 Michael Miranda shared his insights on Cybersecurity for the Modern Hawaii Professional: Mobile, Cloud and Home Offices in his capacity as principal consultant with Spartix at our November luncheon.  He is also an Assistant Professor of Information Security at the University of Hawaiʻi – West Oʻahu, which has been designated a National Center of Academic Excellence in Cyber Defense Education by the National Security Agency and the U.S. Department of Homeland Security and recently served as the Director of Information Security for Hawaiian Telcom.
He showed that accessing a single, seemingly harmless site like cnn.com inadvertently also opens the door to potentially hundreds of other domains, from ads to tracking info to sharing sites like Instagram or Twitter, introducing significant business risks. He advises those with home offices to segregate business information, with a separate router (and separate devices in general) as a best practice to prevent possible malware from family devices to affect your business.
With cloud services, it pays to assess or audit the service provider for appropriate certifications, use of encryption, employee background checks and data centers' physical location. The location could present potential legal jurisdiction issues that could impact your access to your data. It is also important to ask how to take the data with you if you decide to leave that particular provider. While it is tempting to use free cloud services, paying for these services means provides certain guarantees detailed within service level agreements.