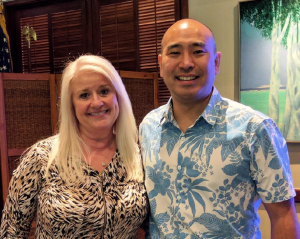 Our luncheon speaker was one of our own board members, Margie Sasaki, who currently works as a consultant for the Blue Cross Blue Shield Association's Special Investigation Unit. Prior to going into business for herself, she worked at HMSA for 27 years, spending the last 16 years in management in the Special Investigation Department.
At our March luncheon, she talked about Medical Fraud Waste and Abuse, which affects all of us. The National Health Care Anti-Fraud Association (NHCAA) estimates that this category totals tens of billions of dollars a year, and we are all paying for it.
Some examples of the typical types of fraud:
Billing for services that were never rendered

May involve identity fraud
A patient went to a new dentist to find that her old dentist had actually not capped her teeth even though she was billed for it
A patient reported not obtaining services that were billed, claiming that an insurance card was stolen by a brother, who apparently used it at a doctor's office. In that case, the doctor was the victim.
Billing for more expensive services or procedures (also known as "upcoding")

Insurance companies "code" certain conditions to determine the appropriate level of service. A higher code generally means a medical need for a higher level of service.
Insurance companies routinely use algorithms to monitor these codes
Comparisons of doctors over time or by peer group can help detect potential fraud through unnecessary services to generate insurance payments
In one case, a doctor who was not a cardiologist purchased an echocardiogram for his office, the increased billing for these types of tests by 70 percent in a single year
In some cases, doctors receive kickbacks for testing referrals

Misrepresentation of non-covered treatments as medically necessary to receive coverage

 Cosmetic procedures like nose jobs are usually diagnosed for coverage as deviated septum
Falsifying patient diagnoses to justify tests or procedures
▪ Anesthesia for colonoscopies are only covered for high risk patients but some will add a COPD diagnosis just to get coverage
▪ The consequences include potentially getting turned down for life insurance if that information is accessed during routine reviews for coverage
She also showed various videos of mainland schemes, ranging from "runners" who get paid for each patient they bring in, rounding up non-English speakers so they could bill for services that were not in fact rendered or were unnecessary. Many schemes ran in the millions of dollars and caused serious harm to their patients. Because Hawaii is not a big market, we don't often hear of these large cases here, but last year at least $9 million was recovered at HMSA. Opioid abuse, for example, strikes everyone, from ages 12 to 86 years old.
Margie's advice:
Be informed of your diagnoses for your own health, and those of your loved ones
Keep good medical records and review your bills
Treat your insurance card like a credit card. Call your insurance company immediately if it's lost.
Be on alert for elder abuse: some people go door to door and tell seniors they work for the government in order to to get their insurance card information.
Read your policy, especially the explanation of benefits
If you see any type of fraud, call your insurance company immediately. Other places to call include the Hawaii State Insurance Commissioner and Dept. Commerce and Consumer Affairs.