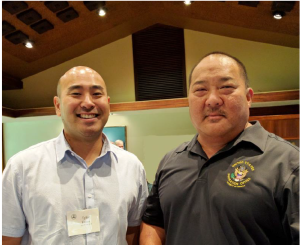 The U.S. Probation Office monitors those who are released from federal prison. Derek Kim is one of 24 federal probation officers here in the state and supervises federal offenders on probation or supervised release. He has been with U.S. Probation for 18 years and supervises offenders convicted of sophisticated "white–collar" offenses, including Ponzi schemes, tax offenses, embezzlement, money laundering, wire/mail fraud, bank fraud, and aggravated identity theft.
Many of his offenders have been chief financial officers, accountants, company presidents, and managers of government and private agencies or businesses, as well as programs that receive federal funds. "Supervision" could last anywhere from 3 years to a lifetime, depending on the crimes. This includes home inspections, drug tests, surveillance and searches.
In addition, the federal government pays for counseling and other services needed for rehabilitation. Derek notes that, oddly enough, white collar criminals tend to be remorseful when they are caught, because they had convinced themselves that they are no different from their clients, aside from the problems that drove them to commit their crimes.
As a probation officer, Derek can recommend that they go back to prison and start over if they don't pass muster. Because of this, he sees his job as determining why they committed the crime, how they did it, and how he can help them keep from doing it again.
Based on his experience, there are four drivers for those who commit white collar crimes: Drug Habit, Financial Problems, Feeling of Entitlement and Greed (Predators). Common methods of crime, rationalization, risk of recidivism, and monitoring areas for each are as follows:
 

| | |
| --- | --- |
| Drug Habit | |
| Common Method | Mail theft or purchase stolen credit card numbers from the Deep Web, create bogus cards by attaching magnetic strips to purchase and sell merchandise |
| Rationalization | "I need to support my drug habit" |
| Risk | Low, due to physical damage from drugs such as heroin or opiates. Tend to be remorseful and pay restitution after undergoing treatment. |
| Monitoring areas | Attendance and attention to counseling, other treatment needed |

 

Financial Problems
Common Method
Embezzlement; more women than men
Rationalization
"I couldn't pay rent/ child support"
Risk
Low to low-medium; not normally involved in other types of crimes
Monitoring areas
Perform home inspections and credit checks to ensure no new credit cards are opened or large purchases are made

Feeling of Entitlement
Common Method
Embezzlement, wire fraud, money laundering; tend to be 'trusted employees'
Rationalization
"They're not paying me enough; they owe me."
Risk
High; tend to be repeat offenders
Monitoring areas
Perform home inspections and credit checks to ensure no new credit cards are opened or large purchases are made

| | |
| --- | --- |
| Predatory | |
| Common Method | Manipulation, tax fraud, hidden assets |
| Rationalization | "I'm smarter than all of you." Tend to blame the victim. |
| Risk | High; tend to be repeat offenders, no remorse |
| Monitoring areas | Psychological evaluation |