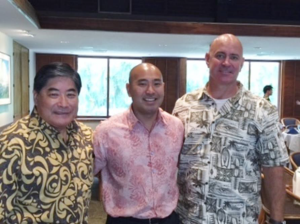 U.S. Marshals are responsible for the protection of the federal judiciary and conduct special missions during security crisis events, and national emergencies. The U.S. Marshal Service is the premier agency focused on fugitive apprehension, and coordinate Asset Forfeiture-Equitable Sharing Programs focused on seizing criminal enterprises and reinvesting these proceeds to support local and state law enforcement agencies in enhanced training, equipment and personnel costs.
Gervin Miyamoto was nominated by President Barack Obama on January 20, 2010 to serve as the (19th) District of Hawaii, United States Marshal. U.S. Senator Daniel Inouye and U.S. Senator Daniel Akaka selected Marshal Miyamoto based on 45 years of combined military and civilian law enforcement experience. He served 25 years with the Honolulu Police Department and served in 10 different elite HPD assignments. He shared news clips of past Hawaii Fugitive Task Force Cases, how this "public school guy" who attended school to play football, run track and baseball, with below average grades was able to achieve his prestigious position.
Special Agent Marcus Ivey of the Secret Service discussed the agency's role in financial fraud investigations, in line with its original 1865 mandate to suppress counterfeiting of U.S. currency and protect the integrity of the nation's financial payment systems. In 2001, the USA Patriot Act created a nationwide network of Electronic Crimes Task Forces to provide support and resources to field investigations meeting specific criteria: significant economic or community impacts; or use of schemes involving new technology.