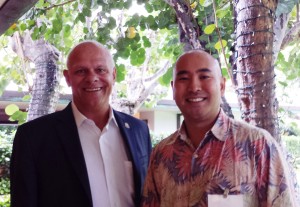 Thanks to all who joined us for our first day-long seminar, offering 8 hours of CPE!
The first session, "Hidden in Plain Sight: Investigating on the Internet" was presented by Allan Bachman, ACFE Education Manager. He provided a virtual tool box of websites to help fraud examiners find people across social media sites, government websites, along with real-time demonstrations of how to use the sites in real time.
State Rep. Isaac Choy discussed Professional Ethics, encouraging participants to review the ACFE Code of Ethics and how it could apply to day-to-day situations fraud examiners could face.
Jason Pa from the Department of Homeland Security, and one of our most popular speakers, shared his experiences through his "Update on Money Laundering and Other Crimes in Hawaii". As he prepares to retire at the end of this year, he reflected that the war on drugs continues, and advised our members to stay alert for the sake of their families, friends and the larger community.
He discussed the need to provide control and oversight over the upcoming medical marijuana dispensaries, which are tempting targets for drug dealers. He warned our members to be aware of state and federal regulations associated with the dispensaries, before engaging in business dealings with potentially criminal investors looking to lend legitimacy to their operations.