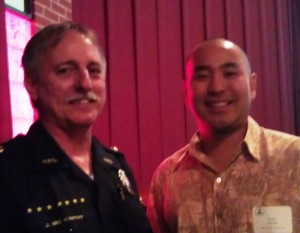 At our luncheon on September 19, Lt. John McCarthy gave attendees an update on Financial Crime Trends that he has seen this year. Some examples were:
Green Dot cards: A type of advance payment scheme in which victims receive what appears to be an award check.  However, prior to receiving the award, victims are told that they must pay "processing fees" by placing money on a Green Dot MoneyPak, a type of prepaid money card.  Once the money is on the card, the victim is instructed to tell the scammer the access code, which the scammer then uses to drain the MoneyPak.  This allows scammers to bypass traditional cash-wiring companies.
Credit card skimming on a global scale:  One of the largest financial crimes in Honolulu started with credit cards originally skimmed in Florida, sold to a group in Russia, and ultimately used by a group in Honolulu.  Within four days, scammers racked up $500,000 in purchases at high-end retailers.  The suspects were arrested and charged with 24 crimes in Hawaii, New York, Florida and other states on the West Coast.
Account takeovers:  Usually the result of phishing, spyware or malware scams, an account takeover is the unauthorized use of a legitimate account that results in a loss of funds.  Recently, Home Equity Line of Credit (HELOC) accounts have been commonly targeted in this scheme.  In one example, a Capital One HELOC account was taken over when a signature block stored on a stolen cell phone was used to gain access to the account.  Spear phishing, where malware on victims' computers record key strokes, is another common method of gaining online access to accounts.
Metadata on Facebook:  We all leave footprints on the Web when we use social media. Third-party software can extract metadata from pictures posted on sites such as Facebook to determine when or where a photo was taken and who took it, which can then be related to others in the area who took photos at the same time.
Bitcoin and Silk Road: Bitcoin is an Internet currency independent of any central authority. Bitcoins can be transferred through a computer or smartphone without an intermediate financial institution and used around the world.  This has made it a handy tool for illegal purchases (such as drugs or guns) on online black markets such as Silk Road.  Transactions were anonymous and there was no way to trace or record their identities.  Silk Road was shut down by the FBI on October 2, 2013.